CONNECT: How to Get Your Worth in the Workplace
A panel organized by Ji Eun Jamie Lee '04
Roundtable Workshop: How to Get Your Worth in the Workplace
an interactive, hands-on workshop with concrete tips on how to better negotiate and advocate for yourself in the workplace.
In this learning clinic, we will put the negotiation lessons to practice through role-playing, Q&A and open discussion. Learn how to effectively advocate for your own career with quantifiable, objective reasoning. It could be salary, benefits, title, and/or bonuses that's negotiated at any of the following role-playing scenarios:
Negotiating the New Job Offer
Negotiation at Performance Review or Client Feedback
Negotiating Through Major Corporate Events (management turnover, company gets sold, etc)
Negotiating with a Client, or as an Independent Consultant/Contractor
Don't miss out on this perfect opportunity to hone your negotiation chops so that you can confidently negotiate your way to the top in the new year. At registration, let us know which negotiation scenario you're most likely going to participate in at the event. There is no obligation - we won't hold it against you if you change your mind at event. We want to ensure that our participants get the most useful information from this event.
RSVP today as space is limited to forty participants. Our Roundtable Facilitators will lead small-group sessions and provide individualized attention.
Tipping Point Partners

86 Chambers Street, 7th Floor

New York, NY 10007

Wednesday December 7th from 6:30pm to 9pm
RSVP HERE--->http://getyourworth-2.eventbrite.com/
---
Event Agenda
6:30 - 7:00 Sign in and mingle
7:00 - 7:20 Welcome remarks, introductions and Roundtable explanation
7:20 - 8:30 Break into groups for roundtable exercises with role-play and feedback
8:30 - 9:00 Debrief, sip wine and mingle
Roundtable Facilitators and Organizers

Alexandra Cavoulacos, Founder and COO of Daily Muse
Alex is the co-founder and COO of The Daily Muse. Prior to founding the company, Alex was a management consultant at McKinsey & Company, where she solved critical strategic and operational questions for top firms worldwide. She graduated from Yale University, where she was the Executive Director of Global21 – a network of international affairs magazines at premier universities around the world, reaching over 250,000 readers around the globe. She was also a co-founder of Pretty Young Professional (PYP), named one of Forbes' Top Websites for Women. When not at work, Alex is an avid cyclist and photographer. Find her on Twitter @acavoulacos

Bethany Hillman, VP of Operations at TVGenesis
As VP of Operations for TVGenesis, Bethany oversees the day to day functions of campaign, publisher and reporting management. Prior to TVG she spent 4 years with Tremor Media as the Director of Ad Operations. Bethany's responsibilities included overseeing ad server management, reporting and margin optimization. She was also heavily involved in new product launches, targeting, and training as the operational point person. Previously, she held Ad Operations roles including Media Analyst and Campaign Manger positions at 24/7 Real Media. Here, she was responsible for optimization, training and revenue fulfillment.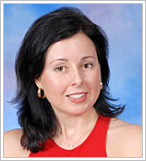 Carla Varriale, Partner, Havkins Rosenfeld Ritzert and Varriale, LLP
Carla is a litigator who has represented Major League Baseball teams and players, minor league teams and clients in the recreation and sports industries. Carla writes and lectures on various issues of interest to sports, recreation and entertainment venues, including water parks and amusement parks. She has appeared as a legal commentator on Court TV Radio and FoxNews' Cases and Cops.

Gwen Taylor, Founder of Gwen Taylor Integrated Strategies
Gwen serves her clients with nearly 20 years of leading leaders and developing their strategic plans that result in stronger brands, improved customer relations, superior operational performance and success in their markets. Previously, Gwen owned a service business, a manufacturing plant and now an international consultancy. As a marathon runner, she knows that successful completion comes from daily effort. While a mountain guide in the Alps, she recognized that consistent steps get you to the top. Today Gwen resides in New York City, runs Central Park and enjoys the abundance of art.

Jamie Lee, Operations Manager at Tipping Point Partners
Jamie is Operations Manager at Tipping Point Partners, a group of experienced entrepreneurs who work on projects where technology can address societal or industry needs, solve problems, or satisfy cravings. Wearing many hats at once comes naturally to Jamie who previously worked as a packaging buyer, hedge fund analyst, and community manager. At a cocktail party, she saw Tania give negotiation advice to a female friend, was inspired by the interaction, and subsequently put together a list of accomplished women to share their negotiation tips with a larger audience of ambitious women. She is an avid New Yorker reader and chronicles her urban gastronomic feasts here.

Tania Yuki, Founder of wimlink and VP Advertiser Solutions, Visible World
Tania founded wimlink in 2007, to create opportunities for women entrepreneurs and professionals in media and tech to connect, develop themselves and talk business. She began her career as a media and entertainment attorney and has worked in film finance, development and production. Recently, she was featured in Fast Company's Fast Talk for her work in media strategy and online video insights, and was also awarded the Great Mind award by the Advertising Research Foundation for Emerging Talent. She currently is VP of Advertiser Solutions for data driven TV ad-targeting company, Visible World.